Appraisal Engine Inc – About Us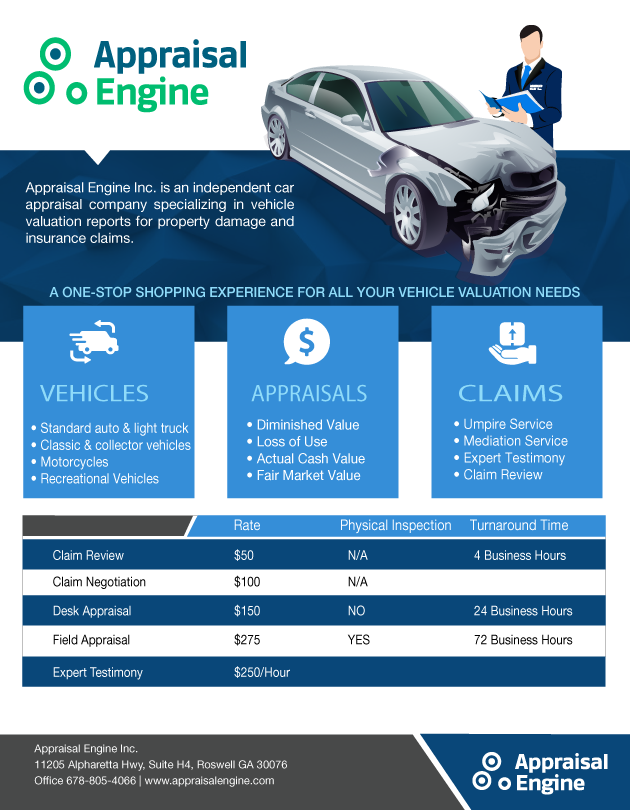 Appraisal Engine inc is a professional car appraisal company specializing in diminished value and total loss vehicle appraisal reports. As licensed independent adjustors, we also handle insurance claims for self-insured entities and small insurance companies.
In addition,  our company offers various umpire/mediation claims and will serve as expert witnesses in court.
Appraisal Engine's Clients:
Personal Injury Law Firms
Insurance Companies
Dealer Groups
Leasing Companies
Government Agencies
Independent Claims Adjusters
Fleet and Rental Companies
Municipalities / Public Transportation Authority
We also serve the general public via websites powered by Appraisal Engine. 
Diminished Value of Georgia
Diminished Value Carolina
Diminished Value Bureau
Totaled.us
Atlanta Auto Appraiser
Charity Car Appraiser
Valuation Services:

Field Appraisals (a hands on vehicle inspection)
Desk Appraisal  (a sight unseen valuation based on data)
Umpire Service  (when an appraisal clause is invoked)
Expert Witness Testimony ( plaintiff and defense)
Claims Adjusting
Appraisal Types

Diminished Value
Total Loss
Classic Cars
Exotics and Highline
Recreational Vehicles
Motorcycles
Charity or Donation
Stated Value or Actual Cash Value
Estates and bankruptcy
Pre-Purchase inspections